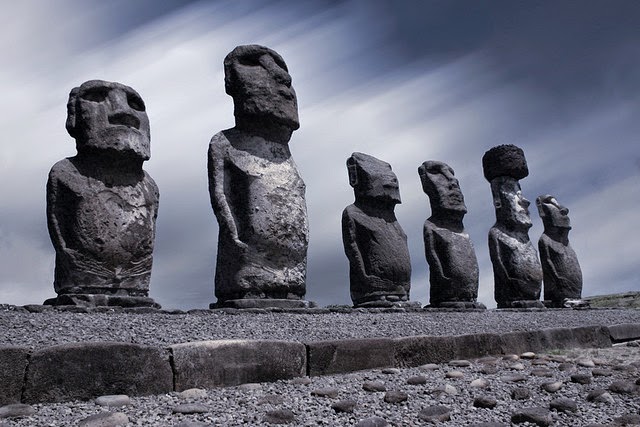 Storytelling is quite en vogue. In fact telling stories is part of the human nature. Things get weird if the story is more convincing than the truth. Word of mouth spreads like wild fire to turn into facts? Is it called urban legends? Viral marketing?
For instance, do you know what happened on Easter Island? Do you know why all the trees are chopped, almost all insular are dead, and many of the famous moai statures are overthrown? These are the ingredients to make up a convincing story of a collapsing culture. Furthermore, it is warning for human kind to be careful with the limited resources on our planet.
For every complex problem, there is a solution that is simple, neat, and wrong. – Henry Louis Mencken
Science can help to discover the truth once conducted with an honest and open minded attitude. Therefore I was impressed by listening to a talk by Terry Hunt and Carl Lipo at the LongNow Seminars. There exists an alternative explanation for toppled statures. And most impressive and surprising, Hunt and Lipo offer a solution how to move a moai with a weight of several tons across the island. Let's rock'n'roll!
A shorter version of the talk has been recorded by the National Geographic – check minute 16 to see a moai dancing:
Is there another lesson in this story than potential collapse of civilizations? For me it's this: Stay alert. Look for the facts. And keep history separated from its interpretation.
Enjoy Easter!
// top photo cc by Olivier iko
à propos