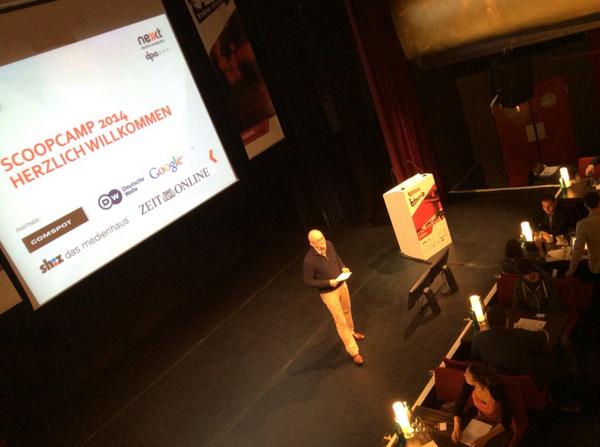 Gastgeber Meinolf Ellers (dpa-infocom)
Wenn ich so an das Scoopcamp 2014 zurück denke, muss ich eher kritisch werden. Es gab 3 gute US-Referenten – Burt Herman (storify), Jigar Mehta, Ken Schwenke (NYTimes) – die zur deutschen Journallie gepredigt haben. Das Internet WIRD die Szene grundlegend verändern und es sei JETZT der richtige Zeitpunkt sich damit zu beschäftigen. Hmm. Büschen spät, oder? Innovation geht anders. Immerhin benannte Burt Herman 5 Bereiche, die für die Zukunft des Journalismus entscheidende Bedeutung haben werden:
open source – open sourcing journalism
social media – telling stories by&for small communities
data – find the stories in the vast amount of data
personalization – local news, and news personalized for 1 individual person
new devices – responsive thinking is just an intermediate step. when & where does someone need the info?
Die Stimmung im Kehrwieder-Theater und das Ambiente der Hafencity waren supèrbe, wie auch die Gespräche am Rande der Veranstaltung.
Am Nachmittag war ich im Workshop zu "Bewegtbild und Second Screen". Aus TV-Sicht ist das der Versuch das Smartphone oder Tablet mit Sekundär-Infos zu bespielen. Das ging an meinen Erwartungen und wohl auch an der Realität vorbei; denn das Tablet in der Hand ist heute eher das Primary Device, und wenn da dann noch eine App des TV-Senders läuft, greife ich zum zweiten mobile Device für den Third Screen.
Ich habe fleißig auf meinem Primary Screen gezwitschert, denn ich fühle mich bei solch Veranstaltungen immer provoziert Querverweise auf andere Talks oder Artikel zu bringen. Aber schaut selbst_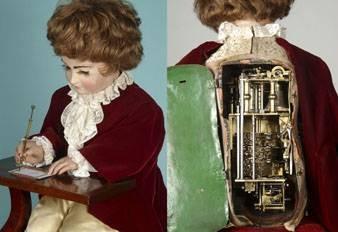 Robot Journalism by Pierre Jaquet-Droz /via
Als Informatiker habe ich mich auch über den Begriff "Roboter-Journalismus" mokiert. Da ist kein Roboter mit Servo-Armen am Werk! Es ist reine Software, Algorithmen, Heuristiken, und etwas Künstliche Intelligenz. Ich weiß nicht, was die "Roboter"-Metapher an dieser Stelle soll.
Das Scoopcamp scheint inzwischen für technisch aufgeschlossene Journalisten ein kleiner aber feiner Pflichttermin zu sein. Das ist gut und wichtig. Ein Camp im Sinne von Barcamp ist es aber nicht. Ein Camp im Sinne von unkompliziertem Meinungsaustausch hingegen schon.